Valentine's Day is just around the corner which means you're probably on the hunt for the perfect gift. Whether you're shopping for someone else, yourself, or both (ain't nothing wrong with a little self-love), here's one piece of advice: choose a gift that'll be enjoyed for years to come.
In case you haven't caught our drift, we'll cut to the chase: flowers die and cologne runs out, but a Timex may last a lifetime. Lucky for you, we've put together a list of our best-selling styles for Valentine's Day. From our Marlin with a traditional hand-wound movement, to our Q Timex with a star-scattered dial, it includes a watch for just about everyone:
For The Watch Enthusiast:

Our Milan-based design director Giorgio Galli knows what makes Timex tick better than anyone. That's why we asked him to create the most "Timex" Timex ever made, a watch that combines our shared love of quality, accessibility, and great design. Giorgio answered with the S1 Automatic, only to follow up with a new 38mm case. This elegant, updated timepiece features details that could only have come from Giorgio-a high-accuracy automatic movement, fully custom case design, and double-domed sapphire crystal. Sure to delight any watch collector.
For The One Who Loves History, Classics, & All Things Vintage-Style:

Ticking inside this iteration of our iconic 1960s Marlin® is a tried-and-true 21-jewel automatic movement, creating a contemporary timepiece that honors our watchmaking history. Powered by motion as it's worn, the movement can store a maximum 40 hours of energy. True to our original Marlin design, this watch features the iconic domed acrylic crystal, complemented by a stainless-steel case, navy dial, and classic brown leather strap sourced from the S.B. Foot Tanning Company.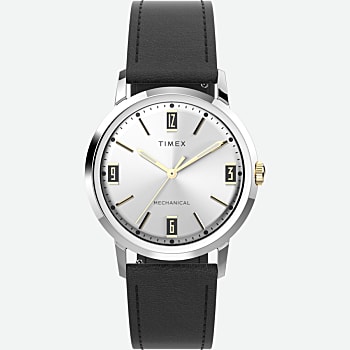 This reissue of our handsome Marlin® pairs the purity and pleasure of a hand-wound movement with timeless sophistication. Directly inspired by our 1969 original, this iconic mechanical watch features a unique hand design, raised indices, and boxed numerals on its retro sunray dial. We teamed its timeless aesthetic with a simple color palette that feels both period-correct and completely of-the-moment, while a domed acrylic crystal lens and stainless-steel case drive home its mid-century feel.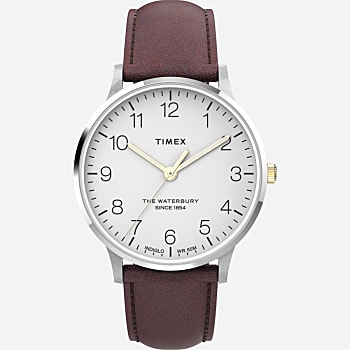 Meet the next generation of an ongoing classic. We traced back to our beginning in 1854 as the Waterbury Clock Company and found new ways to bring our heritage of craftsmanship and authentic watchmaking into the modern day. This watch features a meticulously stitched brown leather strap, stainless-steel case, and white dial that offers a wearing experience with ageless aesthetics.
For The Adventurer: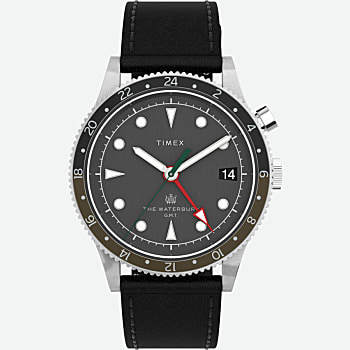 Paying homage to our original watch collection, we used the stylized W of the Waterbury Watch Company on the dial, crown, and second hand of this watch. It displays our attention to craftsmanship and detail, with finely-finished surfaces and careful applications of watchmaking ingenuity. With our Waterbury Traditional GMT, we've united this traditional craftsmanship with the practicality of the GMT function — the watch can track an additional time zone thanks to a fourth hand on the dial, an immensely practical feature for world travelers and global connections. With a black leather strap and stainless-steel case, our Waterbury Traditional GMT is the wristwatch that'll keep them on time, no matter where they're touching down tomorrow.
Expedition North Field Mechanical 38mm Stainless Steel Bracelet Watch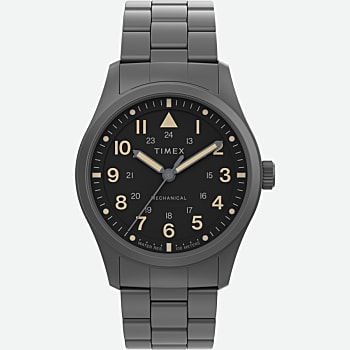 Directly inspired by military-issued designs from decades past, our Field Post 38 Mechanical watch does more than look the part—it features a sturdy crown and screw-down case back giving it 100 meters of water resistance, plus luminous hands and dial markings, a hand-winding mechanical movement, and a scratch-resistant, anti-reflective sapphire crystal. All that functionality comes in a 38mm stainless-steel case and bracelet.
For The Accessorizer: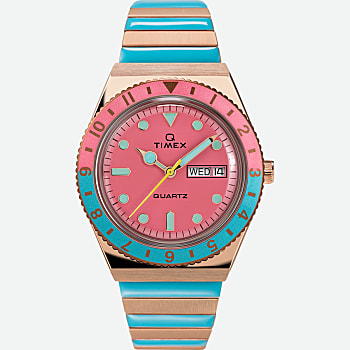 From surf to street, this playful look is inspired by the beaches of Malibu carrying forward the cool, heritage-inspired features of our original Q Timex 1979 Reissue watch – a rotating bezel, functional battery hatch, and domed acrylic crystal. The rose gold-tone case is accented with a pink dial and alternating aqua and rose gold-tone links on our easily-adjustable Perfect Fit expansion band for a look and fit they'll love.
Q Timex Celestial 36mm Stainless Steel Expansion Band Watch
Inspired by our archival designs from the age of quartz, we stayed true to the original details of our 1970s Q Timex with this elegant iteration. While everything from the stainless-steel case and rotating top ring, to the functional battery hatch and domed acrylic crystal make this beauty true-to-the-era, a midnight-blue and gold-tone colorway with crystal accents land its heritage-inspired features among the stars. They'll love taking the enchanting night sky with them wherever they go, thanks to our comfortable Perfect Fit expansion band, which is easily adjustable for a look and fit they'll love.
For The Fighter:
Timex Legacy Boyfriend x BCRF 36mm Stainless Steel Bracelet Watch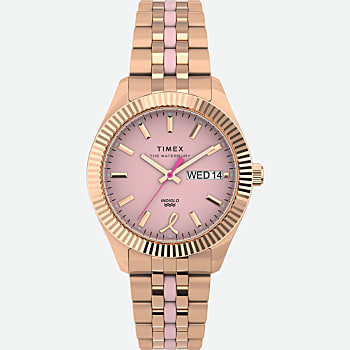 Our Timex x BCRF Legacy Boyfriend is a symbol of support and solidarity with the millions of people battling breast cancer worldwide. With breast cancer being the most common type of cancer in the word, it's likely we all know someone who has been affected by it. Our watch shines with a 36mm rose gold-tone case, a two-tone stainless-steel bracelet, and an elegant fluted bezel. A striking pink dial highlights a date window, pink sweep hand, and the signature breast cancer ribbon at the 6'oclock mark, proving beauty doesn't have to be sacrificed for strength.
For The Little Dreamer:
TIMEX TIME MACHINES® 29mm Rainbow Unicorn Pink Elastic Fabric Kids Watch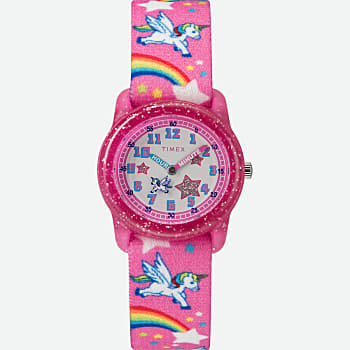 With unicorns flying on its band and dial, this is a watch designed to power her dreams. Made just for kids, it features an easy-to-read dial, minute markers, and adjustable elastic band. Plus, all of our kids' watches are covered by our 100% worry-free replacement plan, so you don't have to worry if it gets lost or broken while her imagination soars.
For The Peanuts Lover:
We teamed up with our favorite Peanuts beagle to help spread the love. Featuring the 34mm silver-tone case profile of our beloved Timex T80, this colorful watch will remind them to see the rainbow of possibilities life has to offer. A cheerful lens displaying Snoopy dreaming on his doghouse manifests a sense of optimism, while our INDIGLO® backlight is just the feature they need to always look on the bright side of things.
For The One Who Prefers Digital: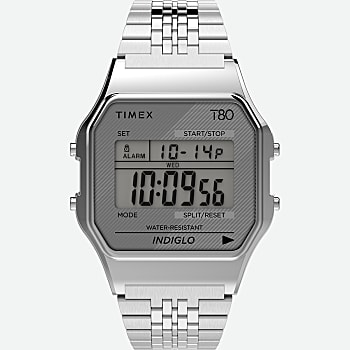 Our T80 is a throwback to the decade that gave us big hair, big music and big dreams. It also pays homage to our first digital watches, some of the first to hit the market. To honor those early hits, we proudly reintroduced the T80 for a whole new generation – a watch that's both a stylish accessory and a serious timekeeping device. The fun retro design packs a date display, a stopwatch, and an alarm into something that looks great no matter where they're headed.